I still remember how mesmerised I was by "chôm chôm" when I saw it for the very first time. Somewhere on a local market in Saigon, hidden among the plethora of other fruits and vegetables, it looked much more like a misplaced sea monster of some sort. "It's fruit. Little sweet, jelly-like" said the amused seller, grinning at me and probably thinking very little of me as I didn't know what this ubiquitous Vietnamese fruit was.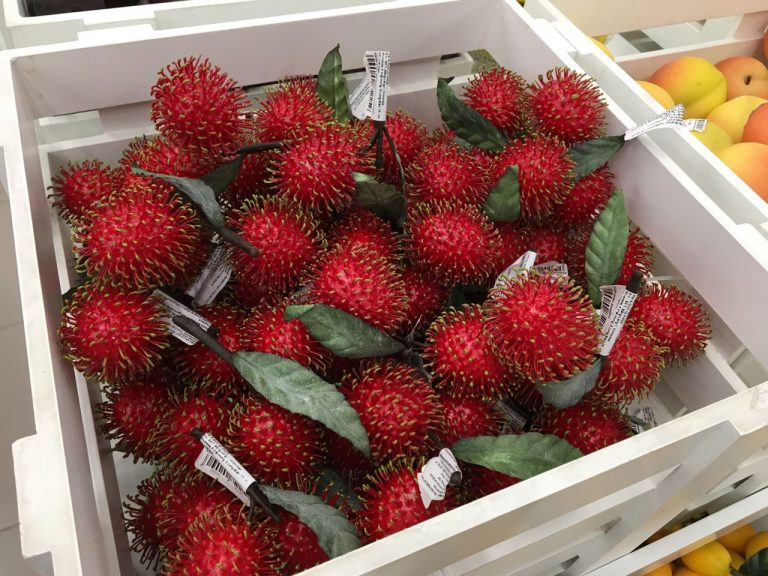 Rambutan (chôm chôm) is a shaggy-haired and fiery looking fruit. From outside it looks like a tiny red sea urchin, however, the suspiciously looking shell encases an innocent, translucent white fruit with a stone (pit) in the middle, similar to the lychee or Iongan. Chôm chôm comes in a number of varieties—varying in sweetness and colour. Some with streaks of gold, orange and green.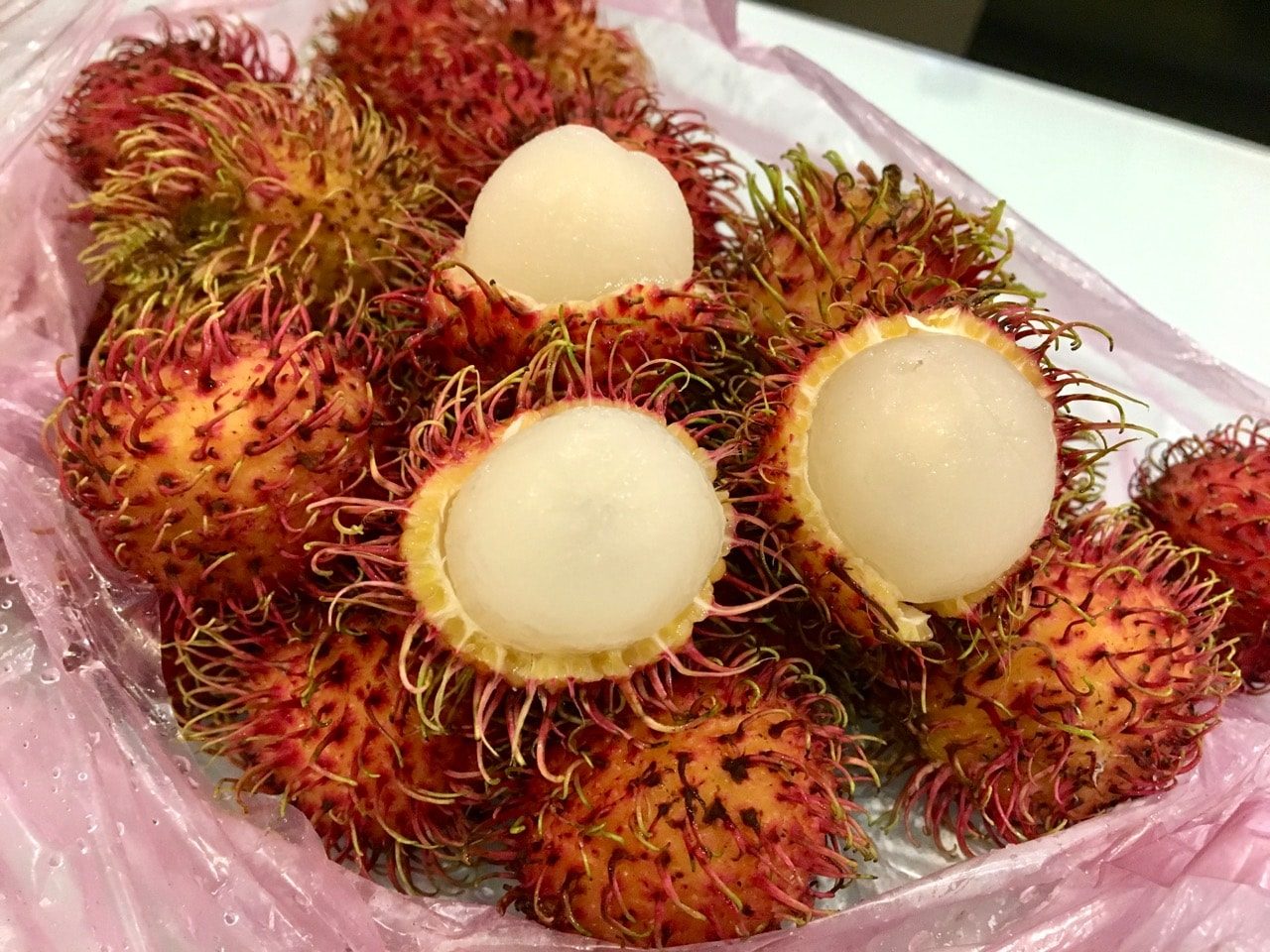 The healthy version of the famous gummy bear candies
Rambutans are easy to open. The white fruit inside tastes similar to those famous gummy bear candies we used to eat as kids. Since nowadays, I'm much less keen on eating suspicious chemicals disguised as fruity bears, I really appreciate chôm chôm as a great alternative to the old childish snack. I also find rambutans to be slightly watery, little sweet and just a tiny bit crunchy.
Saying all above, I'm still not a huge fan of rambutan. I don't mind the taste but I dislike the sticky fingers I'm left with after eating the fruit. As long as I have somewhere to wash my hands, it's not a big deal though.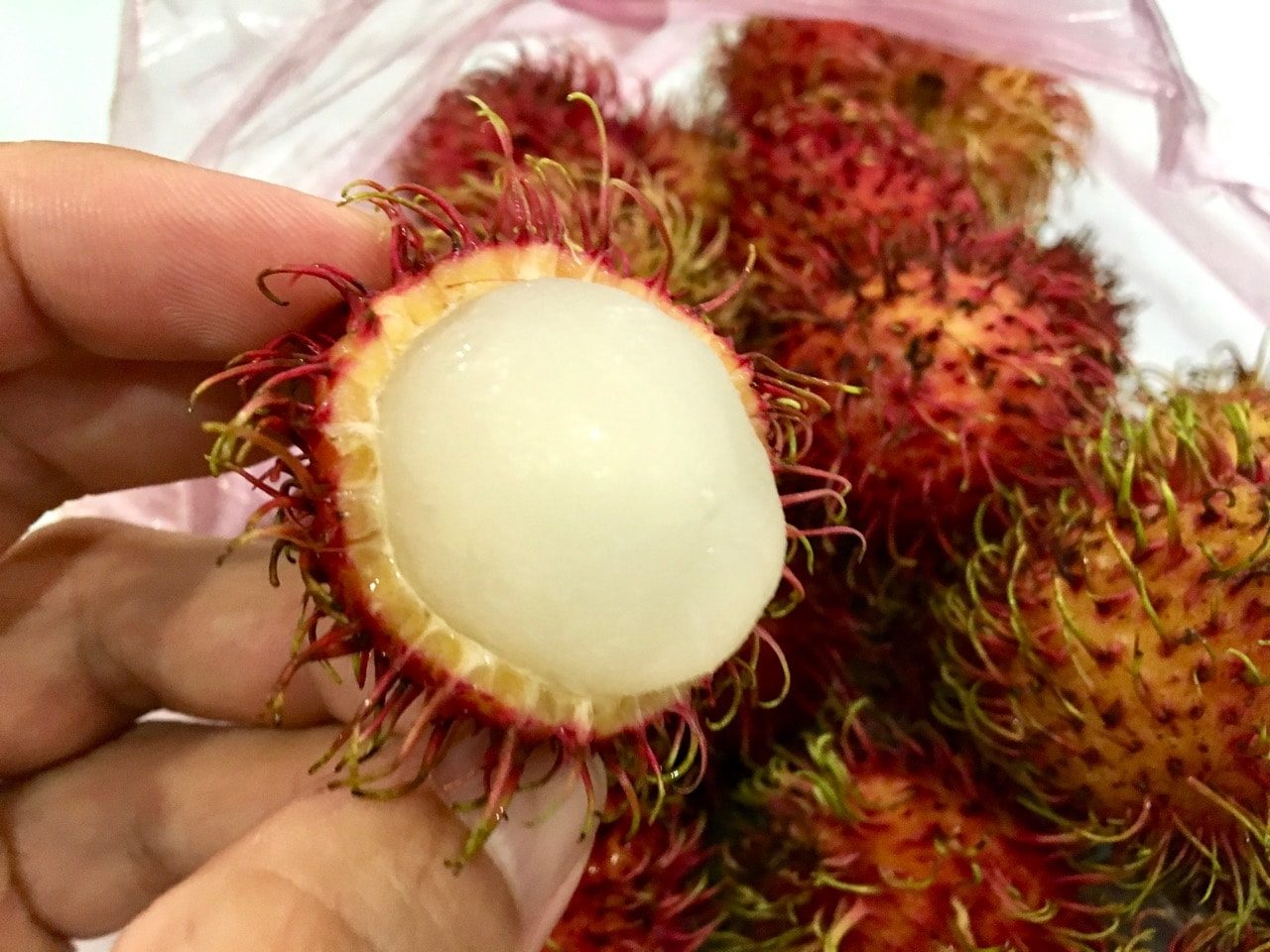 Can you imagine chewing a mildly sweet and slightly crunchy jelly-like substance? If not, try Rambutan. And mind a stone (pit) in the middle—not edible!
Chôm chôm is available in many Asian markets. The usual cost ,as of 2017, varies: 20-40k VND/kg.