The name "bánh xèo" is derived from the loud sizzling sound the rice batter makes when poured into the hot skillet. "Bánh Xèo" translates as "Sizzling Cake".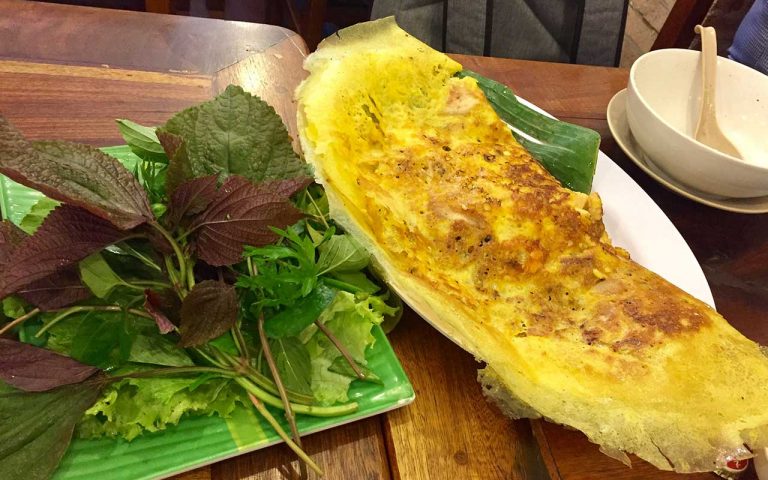 Bánh Xèo pancakes are savoury and yellowish in colour, served with plethora of ingredients, usually very oily and hence also quite filling.
Spelling and Variations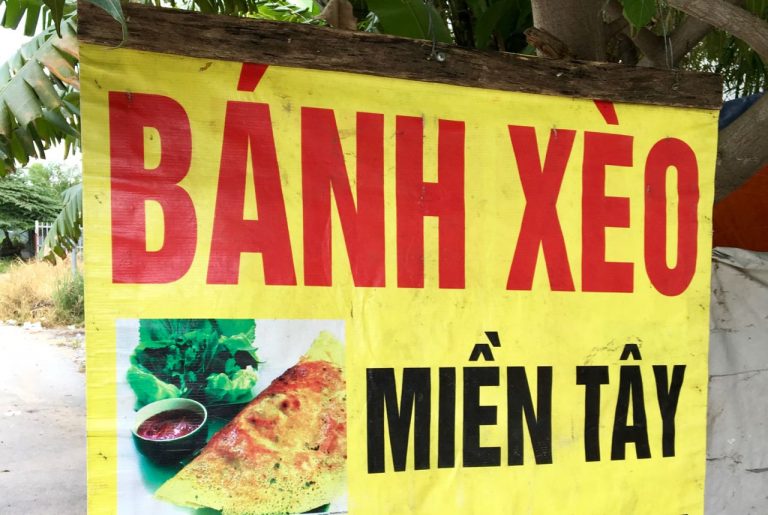 Over time Bánh xèo spread across the entire country and today it can be found in various regional variations.
Bánh Xèo Miền Trung – smaller in size
Bánh Xèo Phan Thiết – typical for Phan Tiet riegion
Bánh Khọt Vũng Tàu – Vũng Tàu version
How to eat Bánh Xèo?
Bánh Xèo is very oily dish, therefore to avoid the dull oily, fatty taste we are advised to eat Bánh Xèo with loads of fresh vegetables such as lettuce, mustard leaf, basil, mint, fish leaf and so on.
Eating Banh Xeo is usually done by wrapping the pastry in a big lettuce leaf, forming a roll which is than dipped into a fish sauce "nước mắm".  Some people prefer to use rice paper instead of lettuce leaves. Regardless of the wrapper the procedure is the same.