Xôi Mít is Vietnamese variation on the popular mango sticky rice from Thailand.
Sweet, fat and crunchy – love at first sight
Sticky rice in general is fairly popular sweet snack in South East Asia and it is served in various different ways. One of them is Xôi Mít.
"Instead of mango, we use jackfruit, and instead of serving mango and rice separately, we put the steamed sticky rice into jackfruit. Also we add more ingredients such as coconut cream, mung bean and peanuts to make it even more delicious and colorful." says miss Hoa, a charming Xôi Mít seller from Saigon.
Sweetness of sticky rice mixed with crunchiness of jackfruit and fat from coconut milk and peanuts makes this snack super attractive to everyone who craves something sweet to munch on.
Where to buy
This sweet rice dish is quite difficult to buy in Vietnam because it's mostly cooked by Vietnamese at home. However there are some sweet soup sellers who also sell the sticky rice with jackfruit. Therefore if you want to try the bowl of the sticky sweetness look sweet soup sellers and ask for Xôi Mít.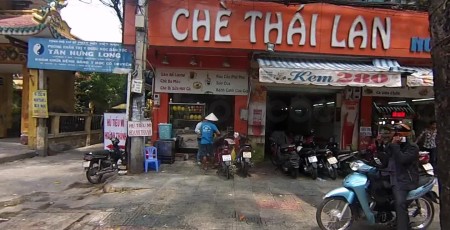 One of the few places in Saigon where you can try Xôi Mít is the sweet soup restaurant called:  Chè Thái Lan 280 Nguyễn Tri Phương street, District 10.