No culinary experience of Vietnam would be complete without tasting a local working-class beer. The most popular brands are Tiger, a locally brewed Heineken, 333 (Ba Ba Ba), Saigon Beer (if you live in Saigon) and Hanoi Beer (if you live in Hanoi).
The drink of Vietnamese working class men
It's probably needless to say that beer-drinking in Vietnam is extremely popular, mostly among local working-class men but occasionally also among women. Even though, it's very rare to see women drinking beer excessively. Beer in Vietnam is almost as omnipresent as the famous Cà phê sữa đá (Vietnamese Coffee) and cigarettes. It's super easy to find as it is sold almost everywhere. Vietnamese beer perfectly complements Vietnamese seafood or Asian-style street BBQs.
Vietnamese beers taste like piss, or not?
In general, I don't think beer needs much introduction. Beer is simply beer. Except, "Vietnamese beers taste like piss," to quote my expat friends whose identity I prefer to keep undisclosed for his own safety. But joking aside. Vietnamese beers aren't as refined and soft on taste as their western counterparts. They are more crude and inconsistent in taste (as many other things in Vietnam). I believe that love for Vietnamese beers is an acquired affection. Once you get used it, you won't mind its crudeness anymore and instead, you will be able to enjoy its other qualities such as low price, accessibility and social structures that relate to beer-drinking in Vietnam.
The cost of Vietnamese beer
Vietnamese beer is cheap, and when I say cheap I mean dirt cheap. At street shops, it sells for about 8k-18k VND (0.5USD) per can depending on brand. The cheaper brands such as 333 or Saigon Beer sell for about 10k-15k VND and Tiger and Heineken for about 15-20k VND. In supermarkets, MiniMarts and 7/11 stores it's a bit more pricey, but not too much (about 20-30% extra).
Where can you purchase Vietnamese beer?
As mentioned before, Vietnamese beer is super ubiquitous in Vietnam. It's everywhere. Vietnamese streets shops or street stalls are a good place to buy a can of beers to quench your thirst as you are strolling around the city. Also, supermarkets and 7/11 stores are becoming very common in big cities such as Saigon and Hanoi and they are safe places to buy food and drinks from. Most Vietnamese restaurant and street food sellers also sell beer, usually Tiger, Heineken and 333. The most popular foreign beer brand that I came across in Saigon was Sapporo. However be aware of a distinction between locally brewed and imported version os Sapporo.
How to drink Vietnamese beer?
I noticed that Vietnamese men drink their beer almost always mixed with a very generous amount of ice. As the ice melts quickly into beer the resulting liquid becomes a very diluted and watery version of what was originally the beer. It's very easy to drink and much less likely to give you a hangover the next day. However, when consumed in excessive amounts, which is pretty common among Vietnamese, it takes its toll regardless.
A few notes on the taste of Vietnamese beer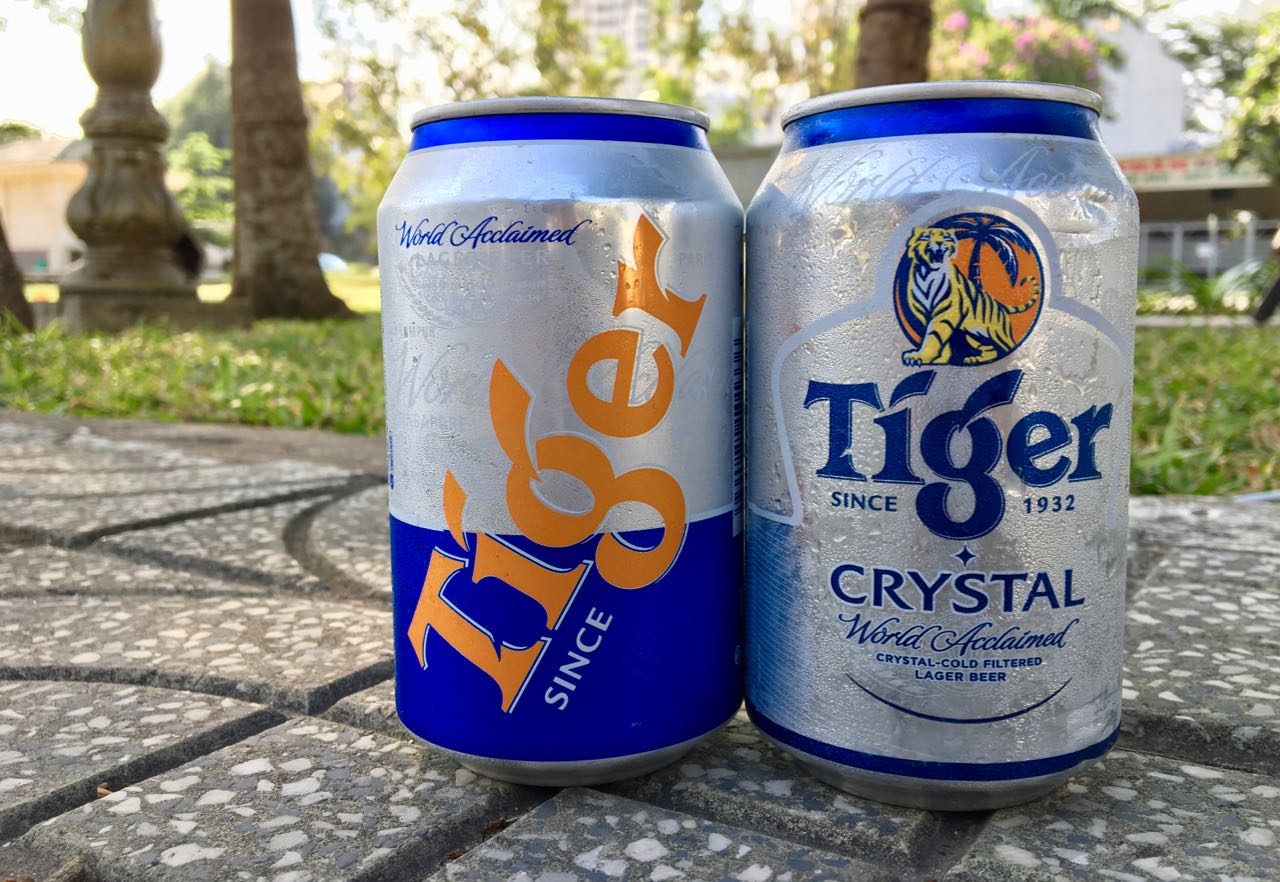 Tiger – strong and bitter in taste
Tiger is probably the second most popular beer in Vietnam, right after Heineken. It's bitter, strong in taste and a tiny bit sour. It's easy to drink when mixed with ice.
Tiger Light – a more acidic variation on Tiger
Tiger Light is supposed to be a lighter variation on traditional Tiger beer. I didn't taste a big difference except it felt acidic, and a tiny bit less bitter compared to original Tiger.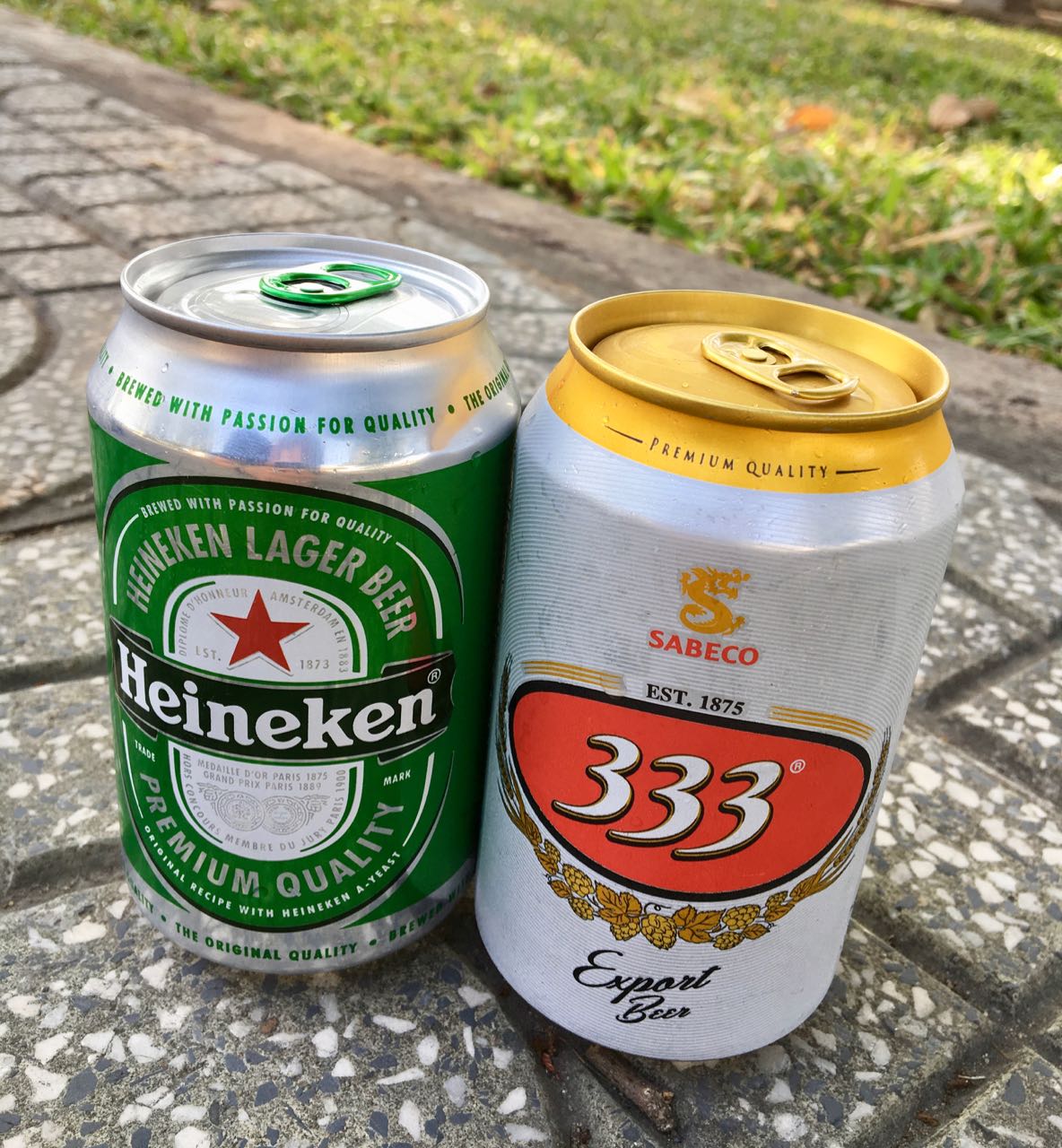 333 – working class watery beer
The cheapest among Vietnamese beers, gathering mostly to the lower working class. It's fairly watery, mild in flavour and no so bitter compared to other Vietnamese beers.
Heineken – an acidic aftertaste on each sip
Heineken is probably the most popular beer in Vietnam. It's available everywhere and it's super easy to ask for. Unlike the European version of Heineken, the Vietnam brewed version is more inconsistent in taste. It's cheap and usually consumed diluted with ice. Hence very watery taste. Vietnamese Heineken leaves an acidic aftertaste on each sip and it feels less bitter compared to Tiger.
Kaiserin – the kick of bitterness
This one is a newcomer among Vietnamese beers. Still fairly unknown beer. It's got a strong and sour after taste that kicks in with a bit of delay. It feels a bit citric too. Definitely authentic and easy to remember.