Vietnamese black iced-coffee is what it says it is. A super-concentrated drip coffee on the bottom of a cup mixed with a generous amount of ice cubes. As you mix the two together, the ice cubes melt and the resulting liquid becomes more drinkable. However, keep in mind that Vietnamese coffee is super strong and fairly bitter. Hence, many coffee drinkers prefer the sweeter variation called Cà phê sữa đá, which is basically a coffee mixed with sweetened condensed milk and poured into a cup full of ice cubes.
Vietnamese coffee, an integral part of Vietnamese culture
It's hard to believe that coffee has been introduced to Vietnam as late as in 19 century by a French Catholic priest. Nowadays, the caffein-charged drink is an integral part of Vietnamese culture. While most Vietnamese men prefer drinking a "pure" black coffee mixed with ice (Cà phê đen đá), women would usually opt for a coffee mixed with condensed milk and ice (Cà phê Sữa đá) or even sweeter and less caffeine charged version called Bạc Xỉu.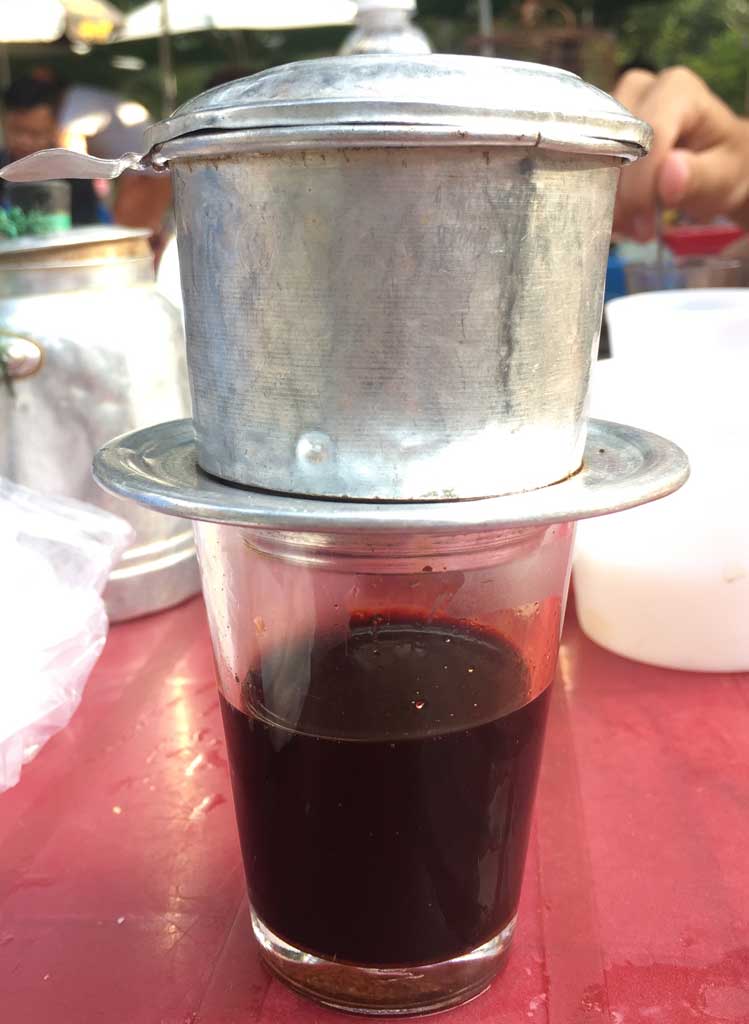 Taste to die for
Love for Vietnamese coffee is an acquired taste. Many tourists and short-term visitors don't like it at first. It takes more than a few sips to get used to the strong bitter taste of Cafe Đen or to the overly sweet taste of Cafe Sữa Đá. But once you fall in love with Vietnamese coffee it gets quite addictive.
According to Miss Sương, the owner of one of the oldest coffee shops in Saigon (109/36 Nguyen Thien Thuat street, District 3, HCM), the secret of Vietnamese coffee is in roasting coffee beans with butter. Of course, there is much more to it, but no "barista" wants to disclose their secret. All we know for sure is that coffee, when prepared properly, brings us, avid drinkers joys and flavours of Vietnamese coffee plants.
"Nothing is more relaxing than a morning ritual of waiting for water, drop by drop, filter through freshly grind-ed coffee, while observing hectic Vietnamese life going by', says Miss Sương.
Most Vietnamese coffee shops prepare coffee concentrate by filtration. Drop by drop – drip coffee. The resulting concentrate is then mixed with ice (Cà phê đen đá) or with ice, plus condensed milk (Cà phê sữa đá).
Coffee and Iced-Tea go together in Vietnam
Vietnamese coffee is almost always served with a free cup of very mildly flavoured iced-tea (trà đá), something Vietnamese cannot imagine drinking their coffee without.

Where to enjoy your cup of traditional Vietnamese coffee
Coffee in Vietnam is omnipresent. Coffee shops of various kind are everywhere. However, if you want to try a real, authentic Vietnamese street coffee, look for a (usually older) woman behind a portable stall with soft drinks on display. Ask her for "Một ly cà phê sữa đá đem về" and for sure she will have something yummy for you. The plastic cup, straw, ice cubes and of course a concentrated black coffee on the bottom.
Occasionally you might come across a motorbike driver who turned his two-wheeled mean of transportation into portable business. These "coffee shops on wheels" are another way to get a cup of real, authentic Vietnamese coffee. The more shabby looking seller, better the coffee 😉
Remember, there are three uniquely Vietnamese ways of drinking coffee:
Save
Save
Save